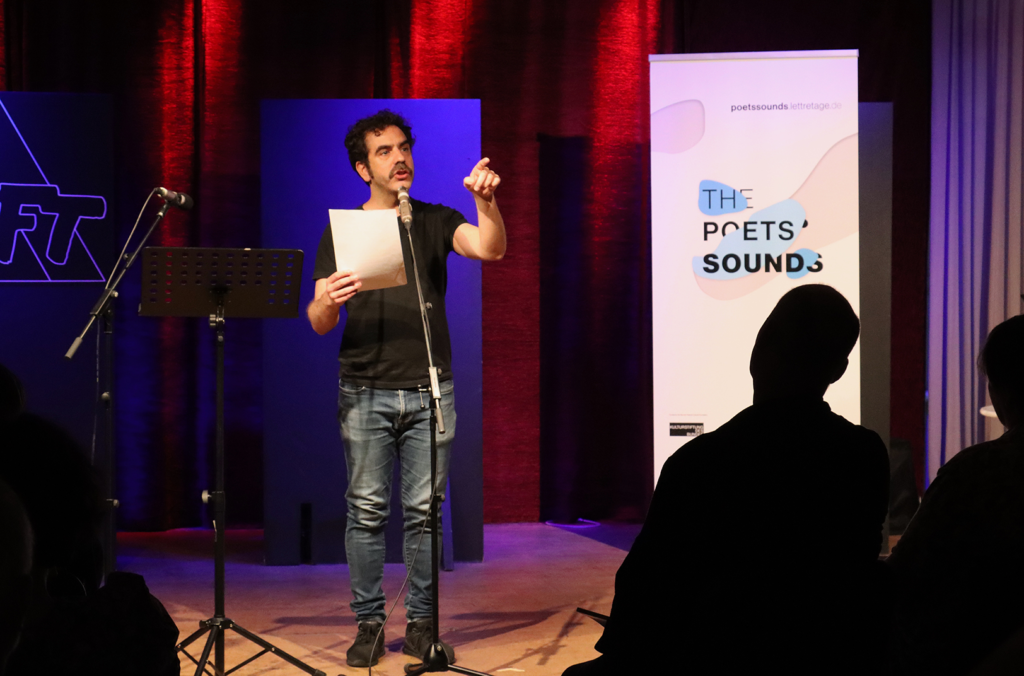 Literary Speech Concert – The Programme
For its public performances in Germany and abroad from June to September 2022, The Poets' Sounds project was able to collaborate with a number of established cultural institutions and festivals which typically feature a transdisciplinary programme – usually based on literature. The sequence of events varied slightly from place to place: After a welcoming message to the audience by representatives of Lettrétage (Marina Agathangelidou or Selma Rezgui), artistic director Florian Neuner from the and/or a local moderator introduced the programme. At some events, a panel discussion took place instead of a formal introduction. Performative readings by the authors (between two and five, depending on the concert venue) concluded the first part of the event. The second part was the literary performance of the six works created for The Poets' Sounds by the sprechbohrer ensemble. After the concert there was an opportunity for interaction with the audience. Networking meetings with local authors and other performers at the festivals complemented the public performances.
Download the program booklet here.
The Pieces
A group of authors with differing artistic backgrounds and emphases (literature, performance, theatre, visual art) all working under the same formal guidelines led to varied and highly distinctive results. The spectrum of the pieces is broad. They encompass strong political topics, for example the passage of refugees across the Mediterranean by boat (Mare Mostrum) and global migration patterns (Ode to the Walking Class). They also contain representations of echo (ricochet rikoschett), a spoken word piece focusing on phonetic-gestural qualities (Rakas Hupsu) and conclude with a reflection on pronouns as a socially charged topic (They) and an absurd and amusing performance piece (Drei Eier).
The stops
11 June 2022: Premiere at Collegium Hungaricum, Berlin (DE)
Collegium Hungaricum, Dorotheenstraße 12, 10117 Berlin. Entry free (tickets available here)
Livestream available here.
12 June 2022: Loft, Köln (DE)
LOFT, Wissmannstraße 30, 50823 Köln. No pre-sale online, entry at the venue.
Livestream available here.
19 June 2022: KROKODIL-Literaturfestival, Belgrad (RS)
Center for Cultural Decontamination, Birčaninova 21, 11000 Belgrad
Livestream available here.
9 July 2022: FORUM STADTPARK, Graz (AT)
Forum Stadtpark, Stadtpark 1, 8010 Graz
Livestream available here.
11 July 2022: Hausacher LeseLenz, Hausach (DE)
Stadthalle Hausach, Gustav-Rivinius-Platz 3, 77756 Hausach
Livestream available here.
24 August 2022: POETRY MOON-Literature Festival, Helsinki (FI)
Tiivistämo, Sörnäisten rantatie 22, 00350 Helsinki
Livestream available here.
25 September 2022: SARDAM-Literature Festival, Limassol (CY)
Art Studio 55, Andrea Drousioti 23A, Limassol